This years Mueller College Fete is set to be a great day out and is open to the entire family with FREE Admission!  All monies raised from the Fete are fed back into the school. The Fete is on Saturday 24th May and runs from 12.30-7.30pm. 
[fancy_header3]FETE UPDATE NEWSLETTERS[/fancy_header3]
Fete Update Newsletter – ISSUE 01
Fete Update Newsletter – ISSUE 02
Fete Program – Official
[fancy_header3]WHAT CAN WE DO?[/fancy_header3]
[one_half]
This years Sideshow Alley is BIGGER THAN EVER and a new range of Carnival Rides (more details below) it is set to be non-stop action all afternoon. We also have our Animal farm with Pony Rides, Kids Sandpit, sporting competitions, facepainting and showbags available. There will also be an OP-Shop for all your plant, book and clothing needs.
Mainstage will again be busy with our Annual Fete Auction, student performances and guest performances by Sean W Smith, Aaron Parry and Smashing Bumpkins. MUROC model aeroplane club will also have flying displays with special LED Lightshow from a model 3D Helicopter once it gets dark.
With a Cafe and 2 Food Courts, providing Wood Fired Pizzas, German Sausages, Asian Cuisine, Hamburgers, Dagwood Dogs, Hot Chips, Donuts, Fairy Floss, Choc-Top Icecreams, Lolly stall….. you can be sure we will have your lunch and dinner taste buds covered as we wind up the day with a Monster Truck and Fireworks display from 7pm.[/one_half]
[one_half_last]
[/one_half_last]
[fancy_header3]2014 RIDE ARMBANDS[/fancy_header3]
The 2014 Ride Armbands will give you Unlimited Access to All Festival Show Rides and activities. Festival Show Rides for 2014 includes the following:
[one_third]
Cobra (120cm height restriction)
Extreme Force (120cm height restriction)
Dodgems (120cm heigh restriction)
Super Sizzler (110cm height restriction)
Giant Field Laser Skirmish (4yrs and up)
[/one_third]
[one_third]
Giant Slide (all ages)
Mini Golf (all ages)

Tea Cups (5yrs and up)

Tram Ride (all ages of kids)

Red Barron Ride (up to 10 yrs)
[/one_third]
[one_third_last]
Ferris Wheel (up to 12 yrs)
Aquatic Adventure Castle (up to 13 yrs)
Kids Castle (up to 6 yrs)
Animal Farm (all ages)
Funky Monkey Racing (up to 10yrs)
[/one_third_last]
Dodgems
Kids combo castle
Animal Farm (included in armband or Gold Coin)
Cobra
Extreme Force
Extreme Force
Ferris Wheel
Laser Skirmish
Pony Rides (included in armband or $5)
Red Barron
Super Sizzler
Tea Cups
Tram Ride
Giant Slide
Aqua Adventure Jumping Castle
Funky Monkeyz Krazy Zoo Racing
[one_third]
[titled_box title="ONLINE PURCHASE" align="center"]
[div style="text-align:center"]
$29.00
[/div]
[fancy_list style = "check_list"]
This Armband offer will only be valid until 11.59pm Friday 23rd May. After this, ride armbands need to be purchased at the fete.
[/fancy_list]
[/titled_box]
[/one_third]
[one_third]
[titled_box title="ON THE DAY PURCHASE" align="center"]
[div style="text-align:center"]
$35.00
[/div]
[fancy_list style = "check_list"]
This armband can be purchased at the Ride Ticket Booth from 12.30pm on the day
[/fancy_list]
[/titled_box]
[/one_third]
[one_third_last]
[titled_box title="PER RIDE ON THE DAY" align="center"]
[div style="text-align:center"]
$5.00[span style="font-size:14px"]/ride[/span]
[/div]
[fancy_list style = "check_list"]
Individual ride passes can be purchased from the Ride Ticket Booth on the day
[/fancy_list]
[/titled_box]
[/one_third_last]
[divider_padding]
[fancy_header3]FETE MAP[/fancy_header3]
This map is subject to change slightly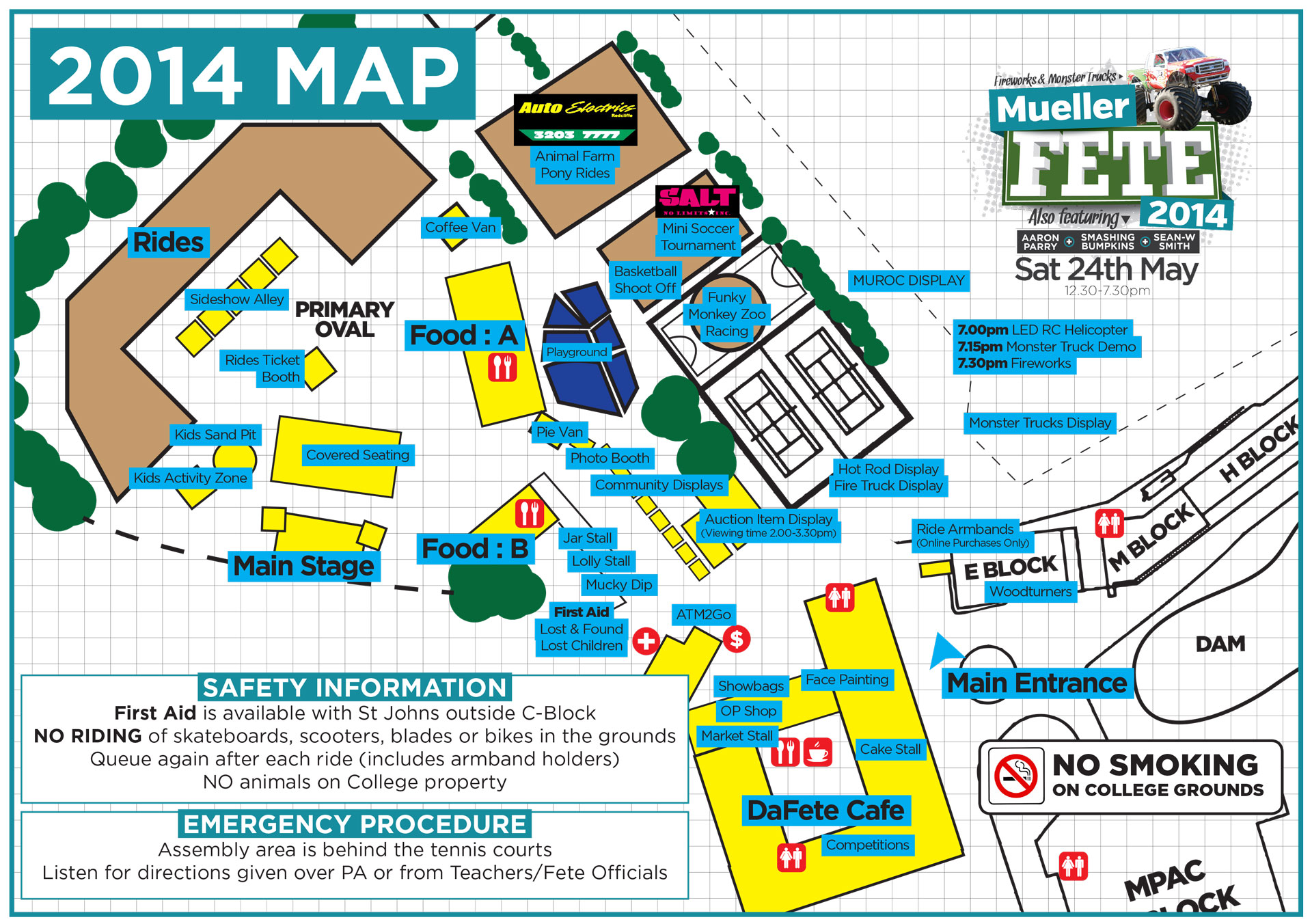 [fancy_header3]OTHER RIDE PRICING[/fancy_header3]
ANIMAL FARM – Gold Coin Donation
PONY RIDES – $5 p/ride
FACEPAINTING – $5

[fancy_header3]PARENT VOLUNTEERS[/fancy_header3]
We are always looking for people to volunteer and help with the Fete. If you are available to help out on the day and haven't signed up via the sign up sheet at the classroom, please send an email to Kerryn stating your availability k.stackman@mueller.qld.edu.au – or call on 3897 2744